Presentations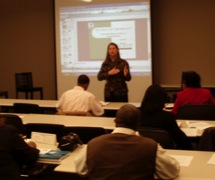 One guarantee that a speaker creates an impact and is received well by the attendees is when the speaker is asked back to the same conference or association meeting the next year. Robin has been asked back after every presentation.

She has presented to business conferences as well as personal development groups, large and small. She has been a speaker across the US and Internationally.


Segments from previous presentations:


Insights for Doing Business Differently (8:27 min)



Impact of Mindset and Skillset (2:30)




Brainmapping & Changing Perceptions (4:38)




She can offer pre-defined presentations tweaked to your specific topic or create custom presentations unique to your request.

Some previous topics are:

Bridging the Knowing-Doing Gap

Navigating through Daily Demands

Juice Up Your Thinking

It's All About Y.O.U.

Thriving in the Jungle of Business

Dealing Effectively with Stress

Believe and Achieve

How Beliefs Affect Corporate Performance

Free Your Mind for Success

Transforming Doubts into Confidence

Toxic Beliefs are Hazardous
Contact
Robin to schedule a presentation or to learn more.